"Phil is a prodigy and a late bloomer at the same time."
— Luc Sante in
The New York Times  
A veteran of New York's downtown scene, Phil Kline stands out for his range and unpredictability. From vast boombox symphonies to chamber music and song cycles, his work has been hailed for its originality, beauty, subversive subtext, and wry humor.
Raised in Akron, Ohio, he came to New York to study English Literature and music at Columbia University. After graduation, he dove into the thriving art and music community of the East Village, founding the rock band The Del-Byzanteens with Jim Jarmusch and James Nares; collaborating with Nan Goldin on the soundtrack to The Ballad of Sexual Dependency (on view at MoMA through February 2017); and playing guitar in the notorious Glenn Branca Ensemble.
(Bio Continues Below)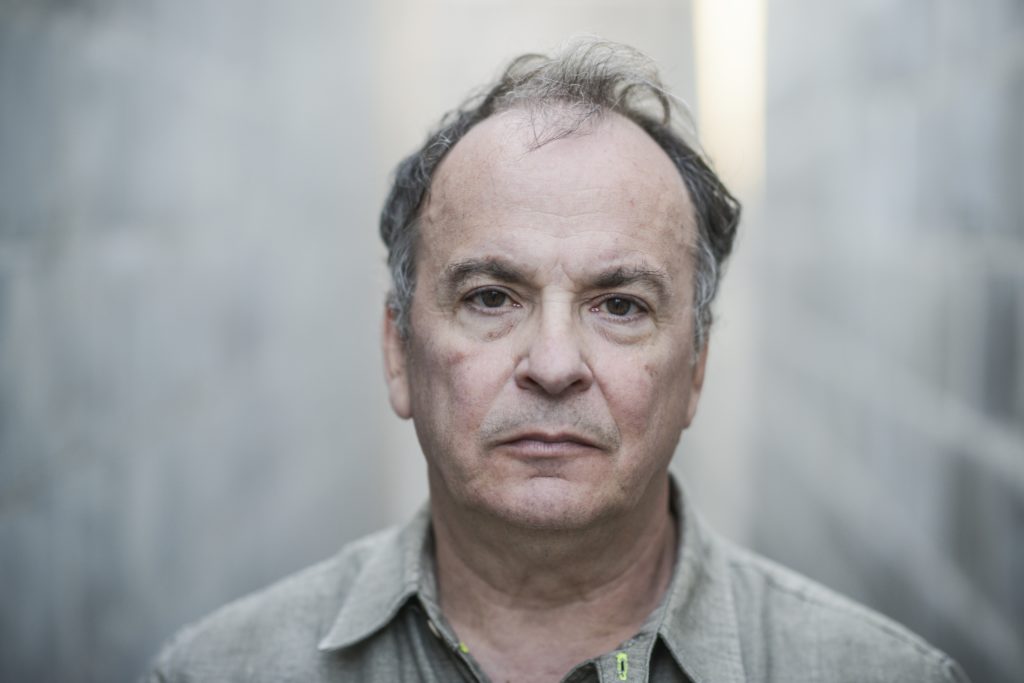 ---
Photo by Lovis Ostenrik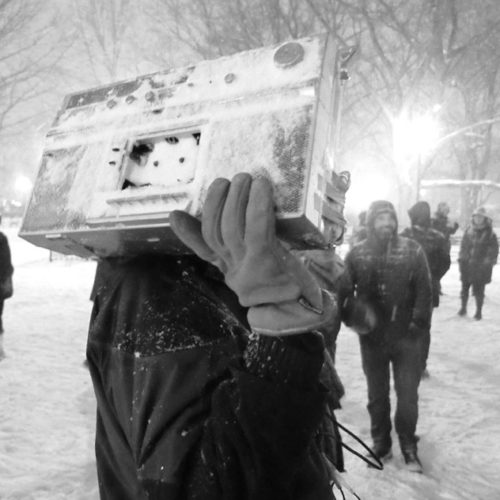 ---
Unsilent Night 2014. Photo by Taylor Davidson.
---
Kline's early compositions evolved from performance art. He often used dozens or even hundreds of boombox tape players to create symphonic waves of other-worldly tone clusters and voices, carrying a great deal of emotional meaning. This is most notable in his Christmas cult classic Unsilent Night, a pioneering work of public sound art which debuted in the streets of Greenwich Village in 1992 and is today an annual holiday tradition that has been celebrated in more than 100 cities on five continents. Unsilent Night's luminous multi-dimensional sound environment floats people through their cities as they walk a pre-determined route. Andy Battaglia described it in The Wall Street Journal: "The effect of Kline's music is gorgeous, as bell sounds lap up against buildings and ricochet all around, and the nondenominational spirit of it can warm even the coldest of hearts." Critic Jon Pareles wrote in The New York Times: "It immerses a listener in suspended wonderment, as if time itself had paused within a string of jingling sleigh bells."
Other tape-based works of this period include to be sung on the water, played throughout the Whitney Museum during the 1995 Biennial; the theater piece Into the Fire, with texts by Luc Sante and presented at The Kitchen in 2000; and the ritual last words before vanishing from the face of the earth, given its only hearing on top of Terrible Mountain near Ludlow, Vermont in 2001.
(Bio Continues Below)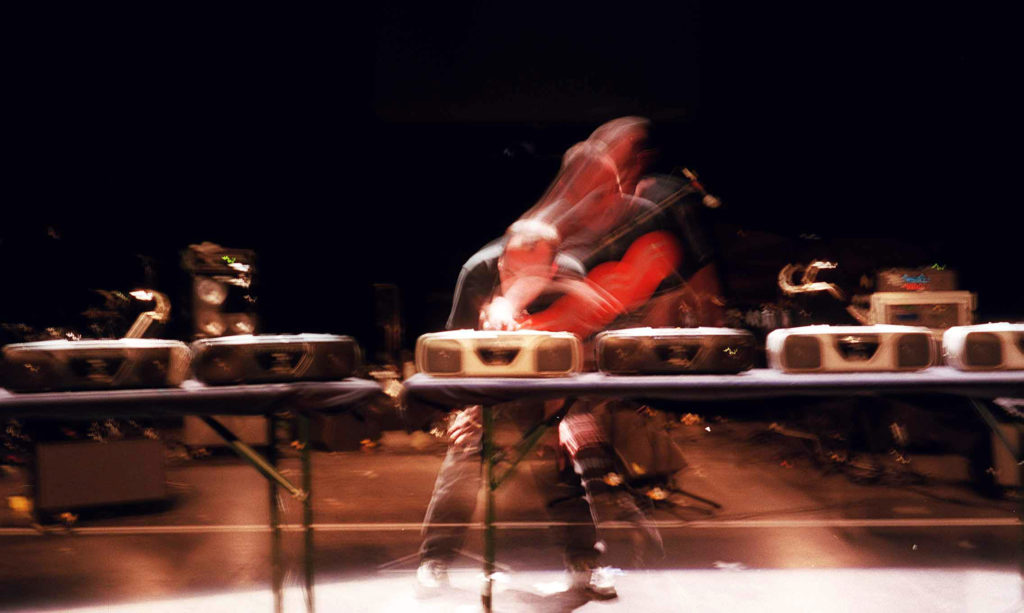 ---
Phil Kline at Bang on a Can Marathon in Hamburg.
"Magic was happening as you sat there. Here was a real original."
— Paul Griffiths, The New York Times
With Bang on a Can
---
In 1992, on the recommendation of Glenn Branca, Phil sent a cassette tape with a letter to the legendary music collective Bang on a Can who in turn invited Phil to play on their famed Marathon. Phil debuted his breakthrough piece Bachman's Warbler for 12 tape loops and harmonicas (considered one of the 1990's post-minimalist classics), creating a sound no one had heard before, and cementing what would become a longstanding relationship with Bang on a Can. In The Los Angeles Times, critic Mark Swed described Phil as "one of the more striking composers that the Bang-on-a-Canners have given relatively wide exposure to. Kline first made an impression through his pieces for harmonica and boomboxes that with single-minded obsession turn simple musical materials into arrestingly elaborate sonic experiences."
The following year, a commission for the Bang on a Can All-Stars led to Kline's first instrumental composition, the sextet Exquisite Corpses, which the All-Stars premiered at Lincoln Center in 1997 and recorded for their debut CD on Bang on a Can's Cantaloupe Music label. Cantaloupe has since released numerous recordings of Phil's music, including three solo CD's.
Songs and Theater
---
While well known for his love of electronic elements, Phil has also made a deep impression with his mastery of songwriting and found text. His first song cycle, When I Had a Voice, was written in 2001 for mezzo-soprano Alexandra Montano, two child sopranos, and the Parthenia Viol Consort. The text was poetry by David Shapiro, Phil's teacher at Columbia—the poet he has chosen to set more than any other.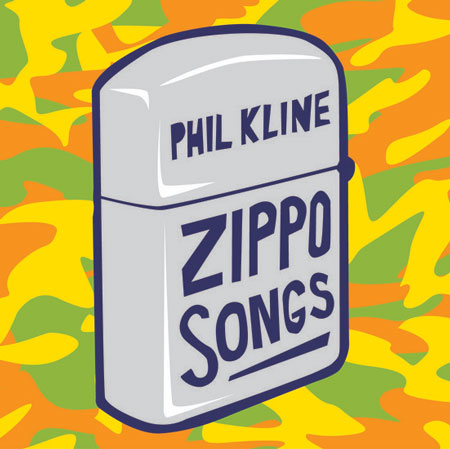 Zippo Songs
Phil's second and third song cycles were the iconic Zippo Songs and Rumsfeld Songs, written for vocalist Theo Bleckmann in 2003, and influencing a new generation of political protest music. Zippo Songs' lyrics were comprised of slogans that American GIs inscribed on their cigarette lighters in Vietnam; Rumsfeld Songs was based on the Pentagon briefings of Defense Secretary Donald Rumsfeld. Recorded for Cantaloupe, the CD was one of the most talked-about records of 2004. It won "Best of the Year" citations throughout the world, from The New York Times to The Guardian, from CNN to NPR. "One of the most brutally frank song cycles ever penned," wrote Alex Ross in The New Yorker. "Some of the most disturbing and compelling songs I've heard in ages," wrote David Patrick Stearns in The Philadelphia Inquirer. WNYC's John Schaefer declared it "Number One" in his New Sounds countdown of the year.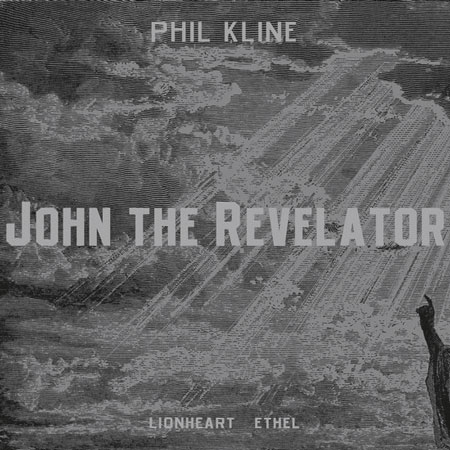 Kyrie
Within the vocal genre, Phil went on to create the surrealist chamber opera Locus Solus, based on the novel by Raymond Roussel and staged throughout the galleries and staircases of the Ryerss Mansion Museum in Philadelphia in 2006; the evening-length John the Revelator, a setting of the Latin Mass written for early-music vocal sextet Lionheart, commissioned by WNYC New Sounds in 2006; and Fear and Loathing, a song cycle based on the writings of Hunter S. Thompson which premiered at Philadelphia's Kimmel Center in 2008.
(Bio Continues Below)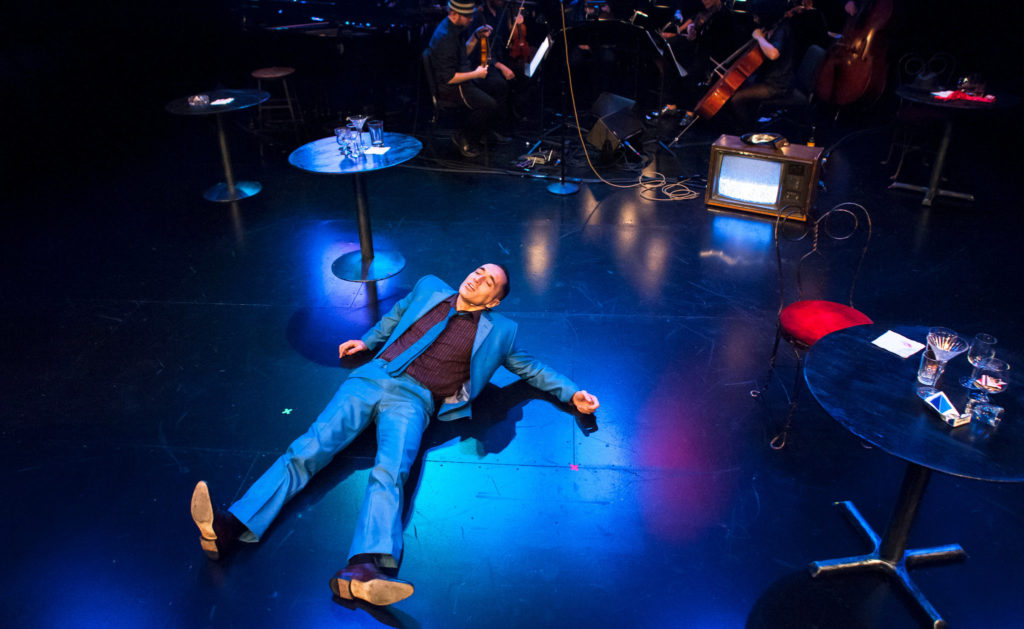 Theo Bleckmann at premiere of Out Cold at BAM
In 2012, Phil wrote a new song cycle for Theo Bleckmann, the Sinatra-inspired monodrama Out Cold. It was produced by American Opera Projects and opened at the BAM Next Wave Festival (the first music theater piece presented at BAM's new Fishman Space). WQXR highlighted this as Best of the Year: "In Kline's Schubert-meets-Sinatra song cycle, Bleckmann conjured Buster Keaton's melancholy and Fred Astaire's grace, transforming a black-box theater with a few café tables into a world as vast as a lover's hopes and as stifling as regret."
Choreographers have long been drawn to the soaring melodies, forward motion and swinging grooves of Phil Kline's music. From 2005-2009, Wally Cardona commissioned Phil to write original scores for three evening-length dance pieces: Everywhere, Site, and Really Real. The premieres took place at BAM's Harvey Theater, Dance Theater Workshop, Portland's TBA Festival, Myrna Loy Center in Helena, MT, and New Haven's Arts & Ideas Festival.
Working with Friends
---
THE BLUE ROOM: IV. TARANTELLA
As he has with Theo Bleckmann, Phil enjoys composing for specific musician friends who inspire him. For the string quartet Ethel, he wrote The Blue Room and Other Stories, a four-movement work that premiered at Miller Theatre in 2003 and is Phil's most widely-performed piece; for Kathleen Supové he wrote Pictures of an Exhibitionist, 23 miniature piano pieces inspired by her father's photographs; and for Sarah Cahill, he wrote the fiercely virtuosic piano sonata The Long Winter. Violinist Jennifer Koh has premiered several solo works written for her by Phil, including the recent Bedeviled for the New York Philharmonic's 2016 Biennial. Violinist Todd Reynolds has premiered many works written for him by Phil, including Reynolds Etudes.
More Commissions
---
Among Phil's large-scale electronic commissions are Chinook, an outdoor mobile boombox installation for the 2006 Winter Olympics in Turin, Italy; World on a String, a sound installation created for the opening of the 2007 season at the Krannert Center at the University of Illinois; SPACE, for string quartet Ethel and electronics, commissioned by Alice Tully Hall for its gala reopening in 2009; and dreamcitynine, which mixed 60 percussionists with hundreds of iPhones around the plaza of Lincoln Center, commissioned by Lincoln Center Out of Doors for the John Cage Centennial in 2012.
Other recent commissions have ranged from A Dream and its Opposite for the La Jolla Symphony Orchestra conducted by Steven Schick and Canzona in Two Hearts for the St. Luke's Chamber Ensemble, to a book of organ pieces commissioned for the gigantic Kotschmar Organ of Portland, Maine; The Old Man of the Mountain for amplified string quartet and the voice of William S. Burroughs, written for FLUX Quartet and premiered at the Other Minds Festival in San Francisco; and Dawn Chorus, a septet based on the song of the Western Meadowlark, commissioned by Grand Valley State New Music Ensemble to commemorate the U.S. National Parks System centennial and premiered in Badlands National Park, South Dakota in 2016 (to be released on Innova).
Phil Kline's music is available on the Cantaloupe, Starkland, and CRI record labels. In 2009, Starkland commissioned and released Kline's Around the World in a Daze, a 5.01 surround-sound DVD (the first commercially released DVD commissioned and composed specifically for surround-sound).
Phil hosts a daily radio show on WQXR/Q2 in NYC and is currently collaborating with filmmaker Jim Jarmusch on a music theater spectacle about Nikola Tesla. He lives on the Lower East Side of Manhattan with his wife and daughter.